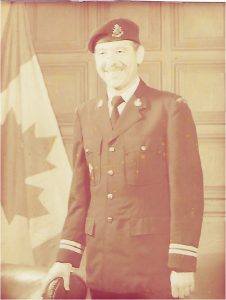 John and I never said "goodbye" we always said "See you later". Today I am saying "See you later" to my very best friend, my partner and my husband. If anyone understood me, John did. He held me in check if there was something I "really" wanted to do if that something was completely unnecessary. He was kindness itself but could also be as stubborn as the proverbial mule yet highly intelligent. John's first name was actually David but there were two David John's in the school, he got the John one.
Born in Northern Ireland coming to Canada when he was 7. He brought with him his Irish sense of humour and his love of potatoes. Not a St. Patrick's Day went by without his feast of tattie bread, sausages, bacon, fried eggs and beans.
He really enjoyed our trips to NOTL and Stratford with Bruce, Pat, Joanna and Phil. Our trips to the theatres and restaurants made for great conversations when sitting on the front porch of the Gardeners Cottage while we sipped on a well-earned whiskey.
Our trips with Phil and Joanna to England are really memorable as were the trips with Terry and Sylvia to France.
He so enjoyed his visits from his "girlfriend" Brenda.
He entered the military in 1958 and served 4 years active service. He loved the military. The Cadet Instructors List was his next venture. He got such tremendous pleasure in working with the cadets and other officers. He probably knows more about WW1 and WW2 than a lot of the books written, but not quite as much as his friend Lorne.
He was with the Cadets Instructors List for 17 years and then transferred his affection to the Grey and Simcoe Forest Military museum on Mulcaster Street in Barrie.
Georgian College was the recipient of John's expertise and loyalty. He was so thrilled when the first computer came to the college. He was Manager of the IT department for 26 years and received the Governors of Excellence award.
Due to heart surgery he had to leave active participation in the museum, but kept in close contact with them, and did computer and information research for them from home.
John loved his family. His daughter Debbie (J.) who loved him right back, as did his grandchildren  Andrea (Clayton) and Shannon, to whom he will always be Gramps.
His is lovingly remembered by his wife of 39 years, Patricia, who is grateful and so appreciative for the years they spent together.
He lived with prostate cancer for 16 years, the last six months being the tough ones.
Missed but never forgotten
See you soon hon.
At John's request, should you wish to make a donation in his memory, please contact the Gilda's Club. 10 Quarry Ridge Road, Barrie L4M 5G1 or phone 705-726-5199 ext: 224. Thank you