Surrounded by her loving family, Jackie passed away on January 2nd, 2019 in her 76th year.  Beloved wife of the late Grant Banks Frith.  Loving mother of Michelle (Sandy) Clarke of Elmvale, Brent (Mary-Anne) Frith of Midhurst, Cindy Frith of Barrie.  Treasured Nanny of Jaimie, Matthew, Holly, Maddy, Victoria and predeceased by Sarah.  Great grandmother of Benjamin and Cameron.  Cherished sister of Larry (Linda) Gallagher, Gayle (Richard) Terryberry and Bonnie (Wilf) Ansell.  Special aunt of Tamara Matos.  Dear sister-in-law of Lois Nesbitt.  She will be fondly remembered by many nieces and nephews.
Thank you to the doctors, respiratory therapists, nurses and psw's both in Respiratory and Cardiac Units at the Royal Victoria Hospital and the Waterford Retirement Residence, who provided Mom with wonderful care, compassion and dignity.
A special thank you from our family to Dr. Nancy Trimble who went above and beyond for the care of our Mom.
Jackie will be forever missed by her friends.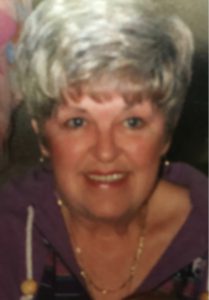 The family of Jackie Frith invites you to join in celebrating her life on Sunday, May 26th at 6 o'clock in the evening at Ferndale Banquet Hall, 24 Ferndale Industrial Drive, Barrie.  We request you bring your thoughts, prayers and fondest memories of Jackie. Friends and family are welcome to share their stories about Jackie starting at 7:00 p.m.
Memorial donations to Royal Victoria Hospital or Canadian Lung Association would be appreciated.
"The happiness of life is made of minute fractions - the little, soon forgotten charities of a kiss or a smile, a kind look or heartfelt compliment."  This is how we remember Nanny (Jackie)
Your life was a blessing. Your memory a treasure. You are loved beyond words and missed beyond measure.