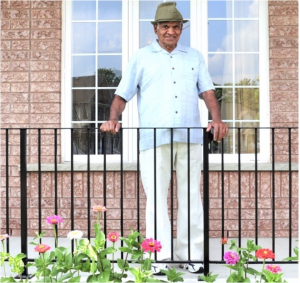 Murday, Nallasamy Pillay (Almay): Jul 21st, 1933 to Jan 26th, 2021
Almay passed away peacefully on January 26, 2021 at the age of 87. Born in Mauritius in the town of Vacoas where he was a renowned baker and owner of the local bakery "Boulangerie Murday". He moved to Canada and lived in Barrie for the last 24 years.
Almay will be forever remembered and missed by his loving wife Mary of 50 years, children Vanessa, Vanida, Reed, son-in-law Keshore and grandfather to Dylan, Ryan and Sara. Almay had 12 siblings.
Almay loved the simple things in life: People, baking, cooking, gardening, especially planting flowers and most of all spending time with his family.  He had a one of a kind sense of simplicity and positive outlook on life.  His daily acts of kindness, generosity and his giving nature encircled his family as well as people that he did not really know. He loved to dress in a suit, always had a beautiful smile and an infectious laugh. He was fun to be around and made people laugh with his lovable sense of humour.
His family has very fond childhood memories of his unconditional love, family trips to the beach, sweets treats and pastries.
Almay positively impacted the lives of many people and he will forever be remembered.
We love you and we will miss seeing you!
Due to the current Covid-19 restrictions, cremation has already taken place.
Donations in memory of Almay can be made to the Heart and Stroke Foundation or a charity of your choice.