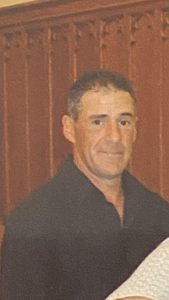 Myatt, Robert James, passed away January 8, 2021 at Royal Victoria Regional Health Centre, Barrie, ON.
Proud father of his daughter Charlee Wright aka Beautiful. Charlee was the center of Rob's world. Rob made friends every where he went. He had a charismatic personality and a great sense of humor. Rob was Survived by his mother Mary Myatt. Sisters Barbara Davis (Bill), Marion Bowler and his brother Shayne Myatt (Brenda). Robert will be lovingly remembered by his nieces Breanna Davis,  Briar Bowler, nephew Riley Davis and Charlee's mother Chantelle Wright. He will be dearly missed by his family, friends and coworkers.
Please feel free to share memories & photos with the family.
Celebration of Rob's life to be held on June 5, 2021.